MODEL MOVING, RESTORATION/REPAIRS, CLEANING
In addition to building professional custom scale models HTS offers comprehensive model restoration services and repairs at our fully equipped facility in Houston, TX. Our expert staff (with 55+ years combined experience) are adept at making your model look like new. If it is damaged, we can repair it. Maybe a thorough professional cleaning is all that is required.
Let HTS modelers advise you what is needed to restore your model to its former self.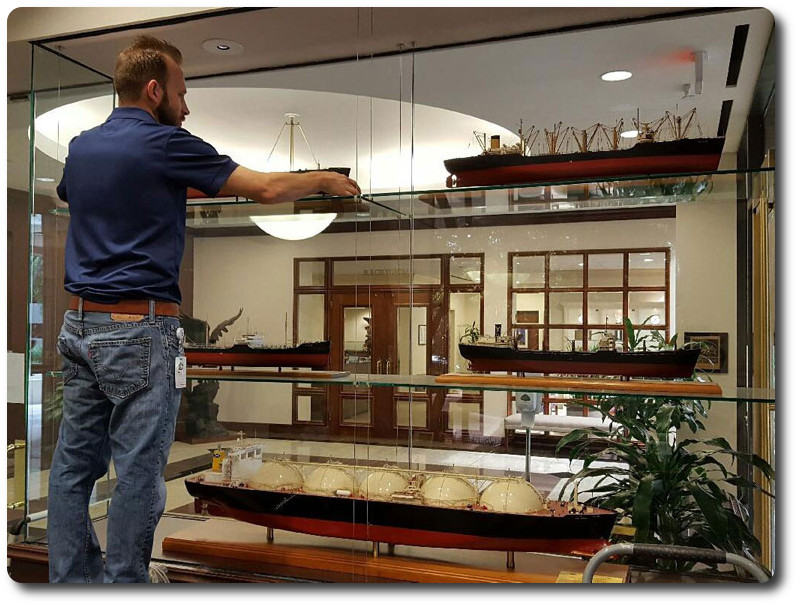 Moving, Repairing & Cleaning Models
We can mend it, even if we didn't model it.
Model: Move / Set Up
Depending on the model, just moving it to a different room can be a tricky operation. HTS staff can help, and prevent damage before it happens.
Do you have a trade show or exhibition coming up? There's no-one better to safely and efficiently transport the model, set it up and make it 'show ready' than the experienced modelers at HTS. Then, at the end of the show we'll be there to move it back and re-install it to its permanent location. Leave it to the professionals who do this regularly. Contact HTS's modeling experts to discuss how we can help.
Call 833-273-6833 for information on rates and scheduling.
Model: Repair / Restoration
In addition to creating models, we repair, restore and revamp older models regardless of their origin.
Models are easily damaged. Often their size (and sometimes their weight) makes it difficult to handle and even more difficult to move without damaging some part of it. HTS modelers deal with these situations every day.
If your model needs attention contact HTS to discuss your situation with our dedicated modeling team. We'll advise you of the most cost-effective way of making your model look like new again. If possible we carry out repairs on-site, but if needed, we'll transport the model to our fully equipped workshop to perform the work.
Model: Updating
In addition to creating models, we are sometimes asked to update existing models regardless of their origin. Call HTS's experienced staff to inquire about the feasibility of such a project. We'll carry out the work at your facility if at all possible; but, depending on the scope of the project we may need to make the updates to your model at our Houston facility. We'll take care of the logistics.
Be assured that HTS strives to minimize the cost to the client in all instances, while maintaining the professional end-result.
Model: Cleaning
It is extremely difficult to keep a model dust free. And all those tiny replica items are not easily cleaned in the normal manner. This is where HTS can help.
A professional cleaning performed by our modeling team may be all that is needed to make it sparkle again. Our expert staff can do this at your location. Call 833-273-6833 for an immediate quote.
HTS's Commitment
Our focus is on customer satisfaction and superior, high-quality scaled models. Whether we are creating a model, or repairing yours, we aim to to meet and exceed your requirements. Referrals from existing clients are a testament to our outstanding quality and service.
HTS is a proud member of the Association of Professional Model Makers